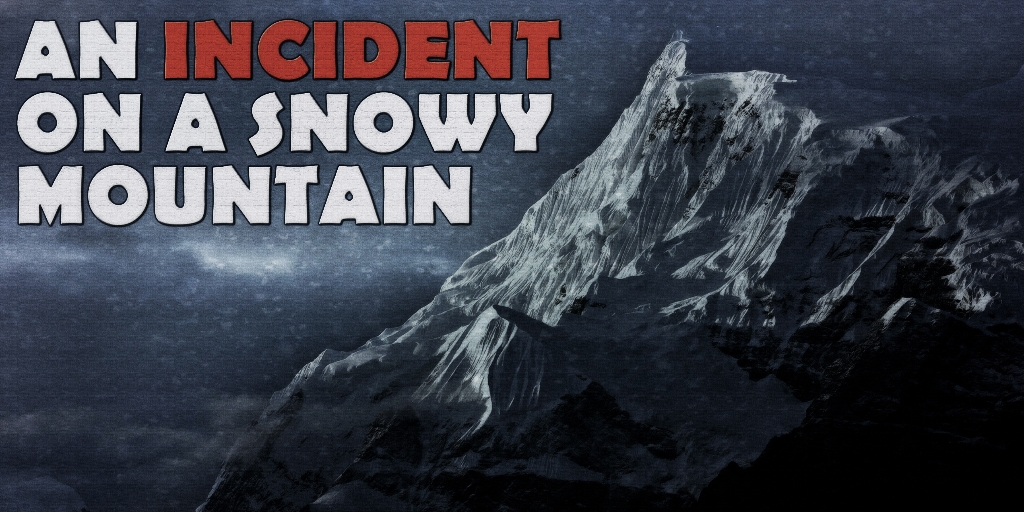 17 Feb

"An Incident on a Snowy Mountain" | Narrated by Otis Jiry

Otis Jiry narrates this classic creepypasta from the netherworld of the Internet.  Posted as far back as 2007 by Saya Yomino on her notorious blog of "translated-from-Japanese" short horror stories, Saya in Underworld, the story recounts the experience of a photographer, employed to snap shots of a snow-capped Himalayan mountain, for a magazine. His assistant, unfortunately, is injured during the trip, triggering a chain of frightening events bound to disturb even the hardiest of horror fans.  If you don't think this is scary, put yourself in the photographer's shoes.  Really. Do it. We dare you.

See more creepy tales collected by Saya Yomino over the years on her blog here:
http://sayainunderworld.blogspot.com

"An Incident on a Snowy Mountain"
Author: Anonymous
Narrator: Otis Jiry
Sound Design: Craig Groshek
Post-Production: Craig Groshek
Artwork: Craig Groshek  

Music Credits:

Kevin McLeod
Royalty-free Music: http://incompetech.com/music/royalty-free/

Sound effects:
http://www.freesound.org
DOWNLOAD HIGH-DEFINITION COPIES OF OUR STORIES HERE:
http://www.chillingtalesfordarknights.com/shop/
[table colalign="center|center|center|center|center|center|center"]
Story Title,Narrator,Author,Release Date,Length,Preview,Purchase
An Incident on a Snowy Mountain,Otis Jiry,Anonymous,2014-02-17,00:02:54,[sc_embed_player fileurl="http://www.chillingtalesfordarknights.com/previews/Chilling%20Tales%20for%20Dark%20Nights%20-%202014-02-17%20-%20Incident%20on%20a%20Snowy%20Mountain%20(preview).mp3″],[purchase_link id="8010″ text="Add to Cart" style="plain" color="black"][/table]
[hupso]
[box type="shadow" align="aligncenter"]
"An Incident on a Snowy Mountain"
Author: Anonymous
A photographer went to a snowy mountain with his assistant, commissioned to take pictures for a magazine article.  They stayed at a log cabin, and a few days had passed when the assistant had an accident and injured himself.
At that point their work was still unfinished and they felt they could not go home unless they finished it first. So they decided to stay on in the mountain.  However, the injury got worse and worse, until the assistant suddenly died from it a couple of days later.
But even so the photographer would not go home. He was very committed to his job and to leave the work unfinished was unimaginable to him. He decided to bury the assistant by the cabin and continued to work on his own.
The following morning when the photographer awoke, the assistant's dead body was lying beside him.  "I'm sure I buried him," he thought to himself.  He was deeply puzzled. He went and buried the body again before going off to take pictures.
But the same thing happened again the following morning, and the morning after that. On his final day he decided to set the camera to Automatic mode and place it by his sleeping bag, so he could see what went on during the night. The next morning, the dead body was there beside him as he had expected. He buried it again and then climbed down the mountain.
When he got home he developed the pictures he had taken the previous night.  And there in the pictures he saw someone get up, go out of the cabin, carry the dead body back on the shoulder and lay it down beside his sleeping bag.
That someone was none other than the photographer himself.
[/box]
DOWNLOAD HIGH-DEFINITION COPIES OF OUR STORIES HERE:
http://www.chillingtalesfordarknights.com/shop/
[table colalign="center|center|center|center|center|center|center"]
Story Title,Narrator,Author,Release Date,Length,Preview,Purchase
An Incident on a Snowy Mountain,Otis Jiry,Anonymous,2014-02-17,00:02:54,[sc_embed_player fileurl="http://www.chillingtalesfordarknights.com/previews/Chilling%20Tales%20for%20Dark%20Nights%20-%202014-02-17%20-%20Incident%20on%20a%20Snowy%20Mountain%20(preview).mp3″],[purchase_link id="8010″ text="Add to Cart" style="plain" color="black"][/table]
[hupso]